Age related memory loss prevention
Social interaction, computer use, games, and crafts can help prevent mild age-related memory loss.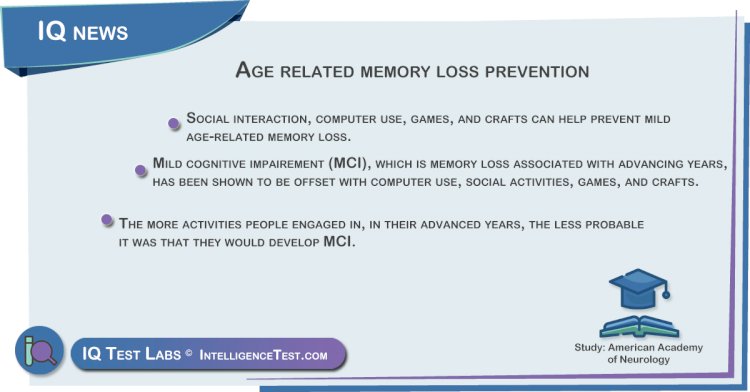 Memory loss prevention
by the American Academy of Neurology
Main titles
Mild cognitive impairement (MCI), which is memory loss associated with advancing years, has been shown to be offset with computer use, social activities, games, and crafts.
Mild cognitive impairment (MCI) is not the same as dementia. People with MCI have much milder symptoms. MCI can be a precursor of dementia however.
The more activities people engaged in, in their advanced years, the less probable it was that they would develop MCI.
"Our study was observational, so it is important to point out that while we found links between a lower risk of developing mild cognitive impairment and various mentally stimulating activities, it is possible that instead of the activities lowering a person's risk, a person with mild cognitive impairment may not be able to participate in these activities as often. More research is needed to further investigate our findings." - Yonas E. Geda, MD, MSc, of the Mayo Clinic in Scottsdale, Ariz.
Source: aan.com