Visual perceptual skills are updated by process similar to memory reconsolidation
Visual perceptual skills include the ability to identify and categorize what is seen, and are updated by reactivating lessons learned.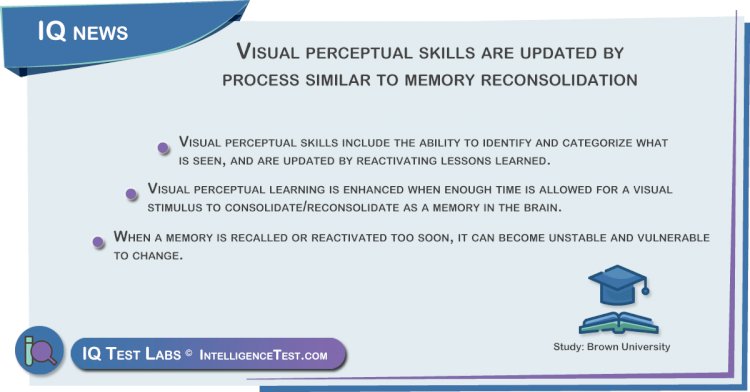 visual perceptual skills
Main titles
The process for updating visual perceptual skills is similar to that used for stabilizing memories.
Visual perceptual learning is enhanced when enough time is allowed for a visual stimulus to consolidate/reconsolidate as a memory in the brain.
When a memory is recalled or reactivated too soon, it can become unstable and vulnerable to change.
"We performed this study because it is controversial whether reactivation makes already consolidated memory fragile again and whether this occurs in humans," said Yuka Sasaki, a professor of cognitive, linguistic and psychological science at Brown. "If such reactivation and reconsolidation are true functions of the brain, they should also occur in human vision."
In the study, both consolidation and reconsolidation occured with similar accuracy, over a 3.5 hour time interval.
"This may explain why practice makes your skill and memory better, if you consider practice as a series of reactivations, increasing the level of plasticity again and again," - Yuka Sasaki.
Study: news.brown.edu